Time is of the essence.
It takes on average 14.8 hours to complete a repair job. That's about three days where your precious asset is off the road, replaced by an expensive mercenary vehicle. So how do you make sure that your car is being enjoyed by your customers / employees / yourself and not sitting in a garage?
The biggest single factor that is fully under your control is choosing the right partner.
With a ~30% decline in repair shop capacity expected by 2020, access to multiple, high quality shops is becoming evermore tricky. That's why you want to have access to a lot of potential suitors before you commit. Choice and transparency should not be a luxury for the few elite insurers and leasing companies that have thousands of cars (and therefore claims), it should be a basic right for all fleet managers.
Axioma allows fleet managers (irrespective of scale) to benchmark offers received through the marketplace based on their key-to-key cycle, giving managers full transparency on how long their vehicle will be off the road. We pool your repairs so that we can get you the same deals as the elite.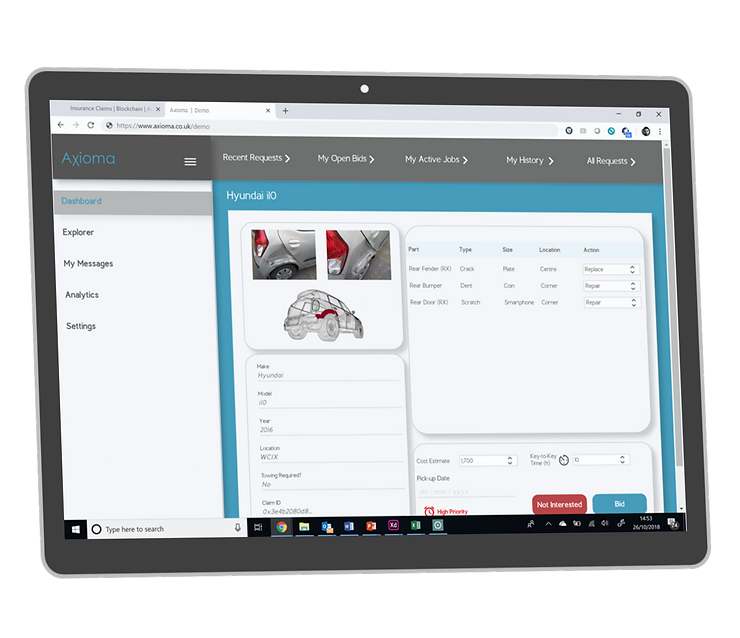 Natural Selection.
Making sure the repairer has the capabilities to carry out the work – particularly with vans or specialist equipment – can save on downtime. A repairer might claim to do commercial vehicle but in reality, they can only do car-derived vans and short wheel base vans because the booth where they paint the vehicles isn't big enough for a Mercedes-Benz Sprinter. With labour rates declining vs. inflation, finding trained and motivated staff is becoming harder and harder, especially when the work requires a specific skill set. To avoid making the mistake of sending your precious assets to unqualified or unequipped shops, make sure that your selected repairer is certified to fix both the weight and the length of your vehicle.
Needless to say, all of the bodyshops that work through our platform are certified (BSI 10125) and can work on vehicles with a tonnage of up to 3.5 tonnes, but hey we don't want to brag.
Buying in bulk.
The average cost of repairing damaged vehicles has risen by 33% over the last four years, due to complexity in cars and a weakening pound (thanks a lot Brexit). Accident management providers and repair networks argue that by going to them rather than direct to a repairer, a fleet operator can secure cheaper rates due to the volume of work they will put through their network.
Working with accident management companies can its downsides: hidden management fees can erode the overall efficiency gains made by buying in bulk. So why not achieve the same, but without a middle man? Finding the right partner through an online marketplace, for instance, can avoid having to pay fees through a fixed-term agreement with a management company.
I can't stress this enough. You need to check!
The key to cost control is literally in the name. Control. At the end of the day you can find the best suppliers on the market, but if you're not following up and tracking the work things will inevitably slow down. This is why software suites that help fleet managers interact with their suppliers are key to keeping everything under control. At Axioma all our partner garages are fully integrated, so we get live feedback as the parts are ordered, as they arrive and generally as your asset moves through the cycle. If something is late, we know, and we know why it's late.